This Asian inspired dish uses a classic French technique. The fish is baked in a parchment parcel on a bed of herbs and topped with a scrumptious Asian sauce. This is a great recipe for entertaining, because the parcels can be cut open and served with a flourish right at the table. And its simple to make! Your friends will look at you with amazement!
Ingredients:
Serves 2:
• 4 scallions, white part thinly sliced lengthwise, chop green tops and set aside
• 6 cilantro sprigs, chop the leaves and set stems aside
• 2 striped bass fillets – about 8 oz each (can also use halibut or cod)
• Freshly ground black pepper
• 1 tsp grated lemon zest
• 2 Tbs freshly squeezed lemon juice
• 2 Tbs butter, very soft
• 1 tsp ginger juice
• 3 Tbs light sesame oil
• 1/4 cup soy sauce
• 3 tsp brown sugar
Directions:
Preheat oven to 400 F. Use 2 – 10 inch square pieces of parchment paper, fold in half and in the center, place the sliced white part of the scallions and the cilantro stems. Season the fillets with pepper on both sides and place on top of herb beds.
Sprinkle the fish with lemon zest and 1 Tbs of butter on each fillet.
Whisk together the lemon juice, ginger juice, sesame oil, brown sugar and soy sauce.
Spoon the sauce over the fish.
Fold the square in half on the diagonal and seal the edges by crimping them.
Place on a cookie sheet and bake for about 10 minutes. Remove from oven and cut open the packets.
To serve, transfer the fillets to a plate. Do not use the herb bed. Spoon the sauce around the fish on each plate and scatter on the reserved chopped scallion tops and cilantro leaves and serve immediately. Bon Appetit!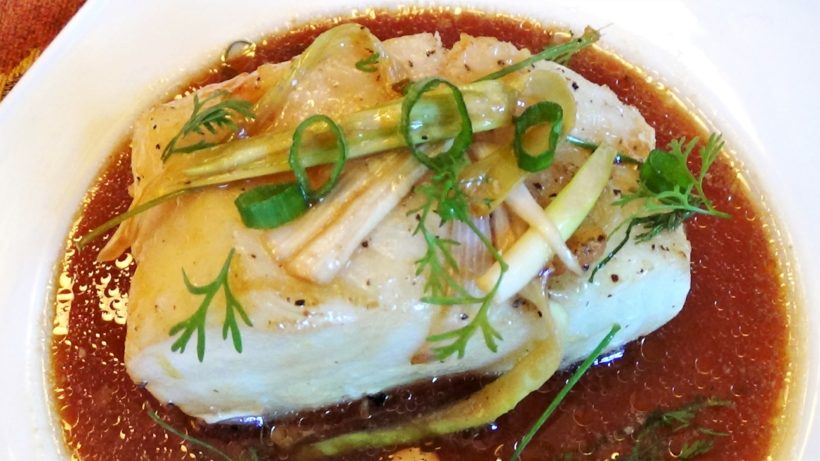 Note to cooks: If you can't find ginger juice, its really easy to make, just add ginger, water and a garlic clove together in a blender and combine. Pour through a sieve, reserving the juice.