This bread pudding is spectacular! And so very easy to make, great for the holidays because it's a make ahead recipe, it's rich and decadent so it serves a crowd and most of all, it is off the charts delicious! The bourbon sauce is luscious!
Ingredients:
5 cups of good quality Cinnamon-Raisin bread cut into bite sized pieces
3/4 cup of toasted pecans
4 eggs, room temperature
1 cup of whole milk
1 cup of heavy whipping cream
1/4 cup of white granulated sugar
1/4 cup of light or dark brown sugar
2 tsp of vanilla extract
pinch of salt
Turbinado sugar – optional
Bourbon Sauce
1/4 cup of butter
1/2 cup of sugar
3 Tbs of heavy whipping cream
2 Tbs of bourbon
Directions: 
Start by buttering a 9×13 baking dish, or for thicker pudding, use an 8×8 size. Place the bread cubes and the toasted pecans in the prepared dish.
In a large bowl, whisk together the eggs, milk, cream, sugars, vanilla and salt.
Pour over the bread cubes and pecans. Push down with your fingers, cover and refrigerate for 2 hours, pushing down on the bread occasionally.
Preheat the oven to 350°. Place the bread pudding dish into a larger baking dish and pour in enough hot water so that it rises about 1 inch up the sides. This will keep the pudding moist.
Bake for 45 minutes (for an 8×8 pan, bake 5 – 10 more minutes, a knife should come out almost clean when tested) it will be set and golden in color, beautiful! Sprinkle with Turbinado sugar for an extra crunch.
For the bourbon sauce, melt the butter in a small saucepan over low heat, add in the sugar, cream and the bourbon. Stir well and bring to a boil, then reduce the heat to low and cook for 3-4 minutes or until the sauce just starts to thicken. To serve, spoon some of the bread pudding into a bowl and drizzle on some of the bourbon sauce. WOW!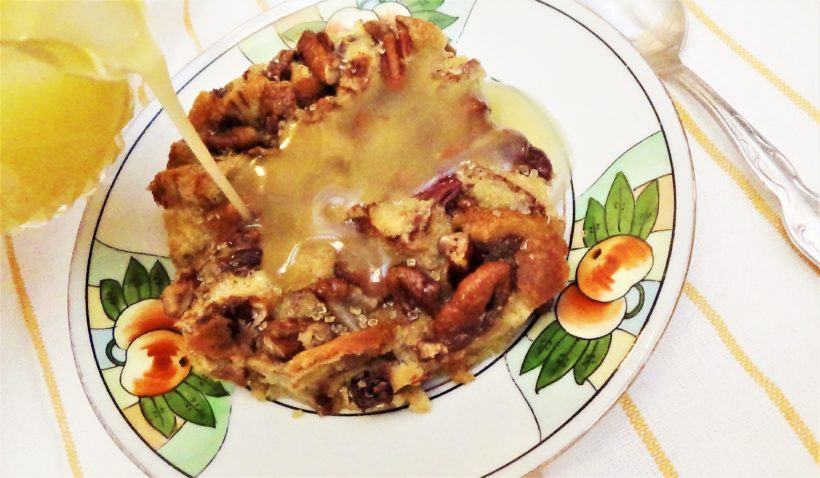 Note to cooks: To toast the pecans, just add them to a dry skillet, over medium/high heat and cook for about 5 minutes, they will become fragrant when done. And you could add chopped apple to this recipe, about 3/4 of a cup, just add it in with the bread cubes and the nuts.