This recipe is so very simple, so delicious and so sophisticated! The chicken is tender and crispy and flavorful then it's topped with an unbelievable Provel sauce! It's perfect for entertaining. Provel is a St. Louis cheese and it's creamy, buttery and decadent! It's actually a blend of Swiss, Provolone and Cheddar. Delish!
Ingredients:
Serves 4
4 boneless, skinless chicken breasts
4 – 5 Tbs of butter for cooking the chicken
1/4 cup of flour
1 tsp of salt
1 tsp of pepper
1 tsp of granulated garlic or garlic powder
chopped fresh parsley for garnish
Creamy Provel Sauce
2 Tbs of butter
2 Tbs of shallot, minced
2 Tbs of flour
1 cup of whole milk
1/2 cup of Provel cheese
1/2 tsp of salt
1/2 tsp of pepper
1/3 cup of dry white wine
Directions:
Preheat oven to 200°
Start by butterflying the chicken breasts, make a horizontal cut through each breast, but not all the way through, then open it up like a book. Place between two pieces of parchment or wax paper and pound to about 1/4 of an inch thick.
Mix the flour, salt, pepper and granulated garlic in a shallow bowl, coat the chicken lightly with flour. Shake off the excess.
Melt 2 Tbs of butter in a large skillet over high heat, add in the chicken, one or two breasts at a time so they are not overcrowded and cook for 3-4 minutes, turn the chicken and cook 3-4 more minutes. Transfer to a plate and keep warm in a 200° oven. Repeat with the remaining breasts, adding 1 more Tbs of butter before adding each one and you may have to turn the heat down to medium or medium high.
Provel Sauce:
In a saucepan over medium heat, melt the butter, add in the shallot and saute for 2 – 3 minutes, sprinkle in the flour and mix well. Cook for 2 minutes.
Whisk in the milk, cook for 2 minutes. Add in the cheese and stir until the cheese is melted.
Add in salt, pepper and wine. Stir often until thickened.
To serve, plate the chicken and spoon the incredible sauce over the top and sprinkle with parsley.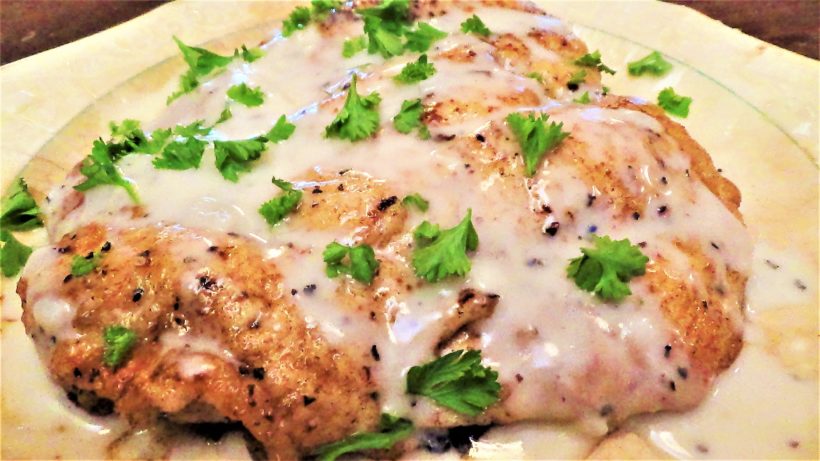 Note to cooks: The Provel sauce can be made earlier in the day, just before serving, heat gently and add a little white wine to thin out a bit.