This chicken is so delectable! Perfectly cooked, tender and topped with a creamy sauce of Dijon, Tarragon and Brandy! The combination of flavors is divine! Also, quick and easy!
Ingredients:
Serves 2
2 boneless, skinless chicken breasts
1 Tbs of butter
1 Tbs of olive oil
1 tsp of salt
1 tsp of pepper
1 shallot, chopped
2 cloves of garlic,chopped
3 Tbs of brandy
1 cup of chicken broth
1/3 cup of heavy cream
1 heaping Tbs of chopped fresh tarragon
1 heaping tsp of Dijon mustard
salt and pepper to taste
Directions:

Using a meat mallet, pound the chicken breasts between 2 pieces of wax paper to about 3/4 " thick, you don't want it as thin as scallopini. Then, melt the butter and oil in a large heavy skillet over high heat. Sprinkle the chicken with salt and pepper. Cook 6 – 7  minutes on each side until lightly browned, then transfer the chicken to a plate.
Add the shallots and garlic to the same skillet, reduce heat to low, saute about 2- 3 minutes. Add the brandy, scraping up the browned bits, and cook for about 2 minutes. Whisk in the chicken broth, then return the chicken to the skillet.
Cover and simmer until chicken is cooked, about 20 minutes, turn the chicken halfway through. Transfer once again to a plate. Whisk in the cream, tarragon and mustard to the same skillet, increase heat to high, boil til sauce is thickened, about 2 minutes. Taste and add salt and pepper if needed.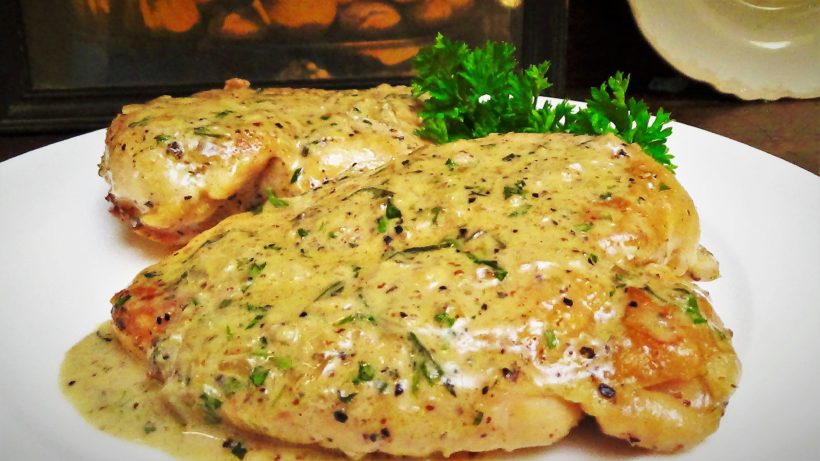 Plate the chicken and pour that scrumptious sauce over the top. All done! Bon Appetit!
Note to cooks: If your chicken has cooled down, just warm it back up in the sauce before serving. Also, I always cook in an iron skillet, so if you're not using one, you may have to adjust your heat a little, the iron gets so hot and really holds the heat, you may have to increase your heat a little.