Delicious Coq Au Vin! Classic french chicken stew! A great rainy day dish, let the chicken simmer away with wine, chicken stock, tomatoes and herbs! Your house will smell so good! Serve with crusty warm bread to soak up all of the sauce!
Ingredients:




Serves 4
3 boneless, skinless chicken breasts, cut into chunks (may use any cut of chicken you prefer)
2 pieces of thick cut smoked bacon, cut into small pieces
1 onion, chopped
3 garlic cloves, chopped
2 Tbs of soft butter mixed with 2 Tbs of water (for thickening sauce)
1 cup of red wine (Cabernet)
1 1/2 cups of chicken stock or broth
1 – 14 oz can of whole tomatoes, drained and chopped
1 tsp of salt
1 tsp of pepper
1/2 tsp of sugar
1 sprig each of fresh rosemary and thyme
8 oz of mushrooms, button or creminis, cut in half
10 oz of frozen, pearl onions
1/4 cup of chopped parsley for garnish (optional)
Directions:
In a large dutch oven, cook the bacon until it just starts to crisp up, remove to a bowl using a slotted spoon.
Working in 2 batches, add in the chicken and cook til lightly browned about 3-4 minutes on each side, remove to a plate, cook the remaining chicken.
Add a little olive oil to the pot if needed and cook the onion for 3-4 minutes, then add in the garlic and cook 1 more minute.
Now, add in half of the butter and flour mixture and stir to combine,
then add the wine, broth, tomatoes, salt and pepper, sugar and the herbs.
Bring to a boil, then turn the heat to a simmer and add the chicken back to the pot.
Cover and simmer for 1 1/2 – 2 hours or until the chicken is fork tender. Fish out the thyme and rosemary sprigs.
Add in the onions, mushrooms and the other half of the butter/flour mixture and cook for 10 more minutes, taste and add more salt if needed. Lastly, add in the crumbled bacon and the parsley just before serving. Enjoy!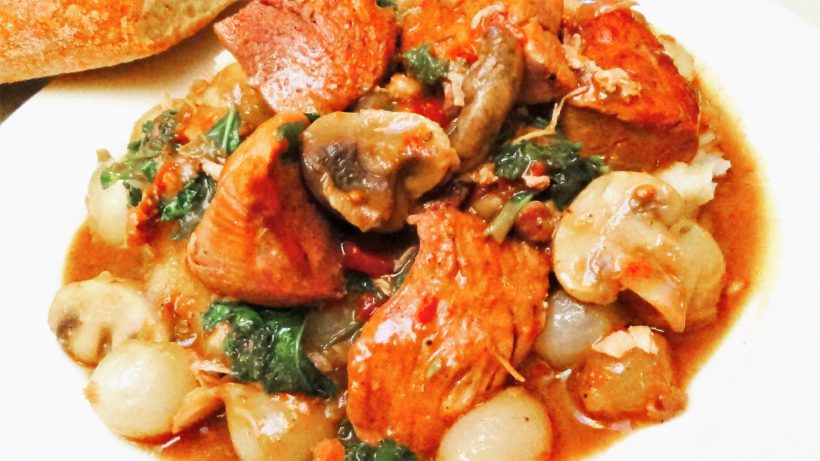 Note to cooks:  This is delicious served with or over mashed potatoes or noodles. I usually add in 1/4 cup of chopped parsley at the end, I have also used chopped Kale.