C

reme Brulee is one of those timeless desserts that is both elegant and incredibly delicious. We've all had them in fancy restaurants but the truth is, it's amazingly easy to make at home. You don't have to have a kitchen torch, the broiler works just as well. And it's a make ahead dessert and we all love that!
Ingredients:
Serves 8
10 large egg yolks (courtesy of my cute little hens!)
4 cups of heavy cream
2 vanilla beans, split open lengthwise and scrape out the seeds
1 cup of white sugar
1/3 cup of white sugar for sprinkling on top
Directions:
Preheat oven to 325°
In a large bowl, whisk the egg yolks with the sugar until smooth.
Add the cream and the vanilla seeds, stir gently until combined.
Place 8 ramekins in a casserole dish and pour in enough hot water until it rises halfway up the sides of the ramekins. Pour the egg mixture into the ramekins.
Bake for 45 minutes to 1 hour. Test by inserting a skewer or knife, it should come out clean. Let cool at room temperature.
You can cover and refrigerate them at this point for up to 2 days.
When ready to serve, sprinkle the tops with sugar and using a kitchen torch, blister the top until the sugar melts and caramelizes.
If you don't have a torch, just pop under the broiler for about 5 minutes to get the same effect. Serve immediately.
Beautiful garnished with blackberries or raspberries. Enjoy!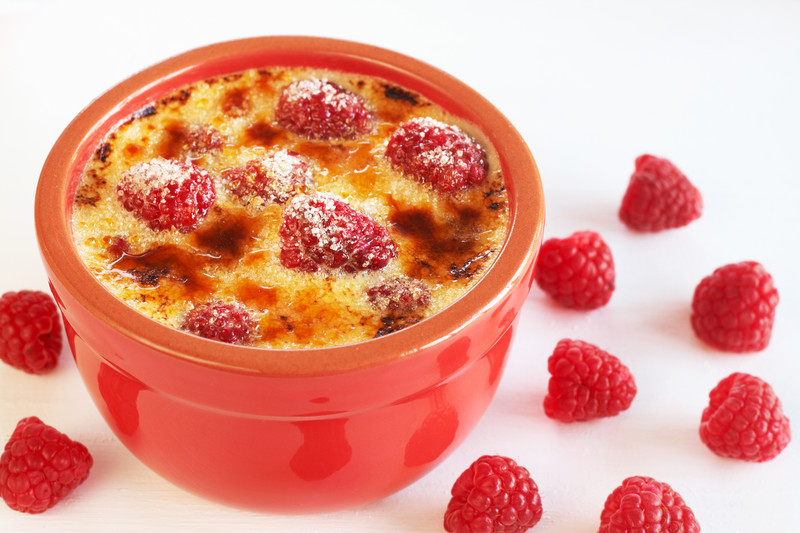 Print Friendly