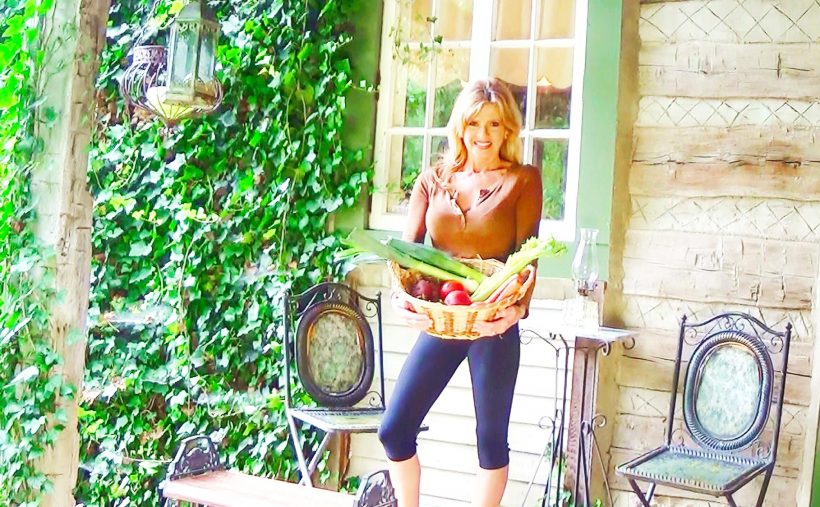 Fresh Vegetable Soup with Pesto (Soupe au Pistou)
Before the season gets away from us, cook up a big pot of soup with fresh garden or farm stand veggies and top it with homemade pesto made with the beautiful abundant basil! A very simple, rustic soup packed with goodness and outrageous flavor!
Recipe type:
Soups & Stews
Ingredients
Soup:
2 Tbs of olive oil
2 garlic cloves, minced
2 leeks cleaned, trimmed and minced
2 carrots, diced
1 celery rib with leaves, cut into ½ inch pieces
3 new potatoes, cut into ½ inch pieces
3 cups of water
3 cups of chicken stock
2 tsp of salt
1 tsp of pepper
2 tsp of fresh thyme leaves
1 can of Cannellini beans, drained
1 large handful of green beans, cut into ½ inch pieces
½ cup of small uncooked pasta noodles
8 oz of frozen peas
2 big handfuls of fresh spinach
Pesto:
3 cups of packed fresh basil leaves
4 garlic cloves, roughly chopped
¾ cup of Parmesan cheese
salt and pepper to taste
½ cup of olive oil
Instructions
Heat the olive oil in large pot, over medium/high heat, add garlic, leeks, carrots, celery and celery leaves and saute about 5 minutes, then add potatoes.
Cover the veggies with water and stock and stir in the tomatoes. Stir in the salt, pepper and thyme, bring to a boil, then lower heat and simmer, uncovered 45 minutes.
While soup is simmering, make the pesto, place the basil in a food processor, add the garlic cloves and pulse until combined, add in the olive oil slowly until mixture becomes pasty. Spoon into a bowl, stir in the Parmesan cheese and season with salt & pepper.
Add the Cannellini beans, green beans and pasta, simmer about 20 minutes. Add frozen peas and spinach. Cook another few minutes until spinach is wilted. Taste and add salt if needed.
Ladle into bowls and top with pesto! So healthy and tasty!
Notes
You can certainly use store bought pesto!