This sauce is incredible! It is out of this world on chicken, but would be equally delicious on pork chops or fish, such as Tilapia or on your favorite pasta. Fresh basil is still growing like crazy, pick some up and try this versatile, amazing sauce! All of the work is done in the food processor!
Ingredients:




Makes enough sauce for 4 servings
1 1/4 cups of fresh basil
1 shallot, rough chopped
5 cloves of garlic, whole
3/4 cup of Parmesan cheese
3/4 cup of half & half
2  tsp of fresh lemon juice
1/2 tsp of kosher salt
1/2 tsp of pepper
2 – 4 chicken breasts, skin on and boneless
Directions
Place all ingredients (not the chicken of course!) in a food processor, pulse until smooth. Pour into a saucepan and heat over low heat for 15 – 20 minutes. Don't let it come to a boil. Give it a taste and add salt if needed.
Prepare your grill (or you could bake your chicken) Place all of the coals on one side and season the chicken with salt & pepper and rub with canola oil on both sides. Place the chicken, skin side down, on the hot side over the coals and sear for 3-4 minutes, then flip it and sear the other side for 3-4 minutes, then move to the indirect heat and continue to grill with the lid on for about 15- 20 minutes, depending on the thickness. The temperature should be 160 -165°.
Remove from the grill, let rest for 10 minutes, then plate the chicken and spoon on that amazing sauce!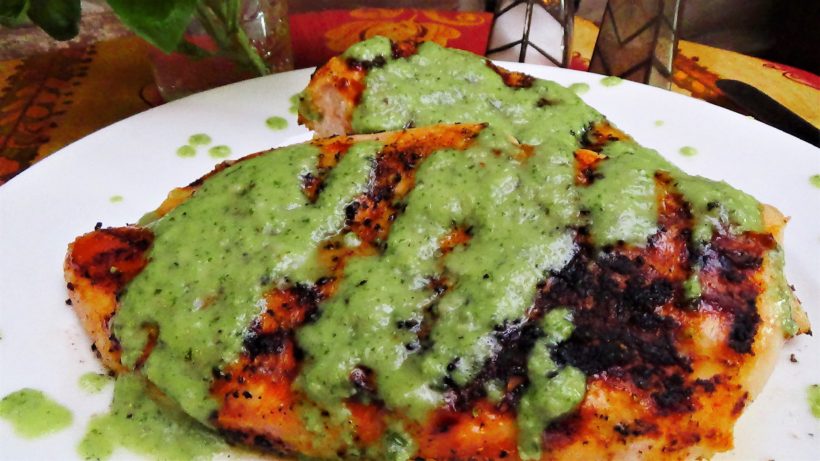 Note to cooks: For extra decadence, stir 1  Tbs of butter into the sauce, just before serving.