This pasta is wicked good! Linguine noodles tossed with a creamy gorgonzola sauce, topped with chicken, walnuts and pancetta! 
Ingredients:
Serves 2 very hungry people!
1 boneless, skinless chicken breast, either grilled or baked
2 oz of pancetta or bacon
1 tsp of olive oil
1/2 of a medium onion, sliced thinly, then cut the slices in half
3 garlic cloves, smashed and chopped
8 oz of linguine noodles
1 cup of whole milk
1 tsp of dried marjoram (could substitute thyme)
a dash or two of nutmeg
1/4 tsp of salt
1/4 tsp of black pepper
4 oz of Gorgonzola cheese, crumbled
1/4 cup of fresh chopped parsley
1/2 cup of toasted walnuts
1/4 cup of freshly grated parmesan cheese
Start by either grilling or baking the chicken breast, sprinkle it with olive oil, season with salt, pepper and garlic powder. Let rest, then slice. Now, in a small skillet, cook the pancetta or bacon until crispy, place on a paper towel, crumble and set aside.
Cook the pasta according to package directions, drain and keep warm.
Then, in a large skillet, heat 1 tsp of olive oil, add in the onion, saute for 3-4 minutes, then add in the garlic and saute 1 more minute.
Next, add in the milk, marjoram, nutmeg and salt & pepper.
Stir and cook a few minutes, then stir in the gorgonzola and the parsley, cook and stir until the sauce starts to thicken.
Stir in the parmesan cheese, taste and add salt if needed. Add in the linguine and toss to coat.
To serve, place the pasta in a bowl, top with the chicken, walnuts and pancetta and a little more parmesan if you like.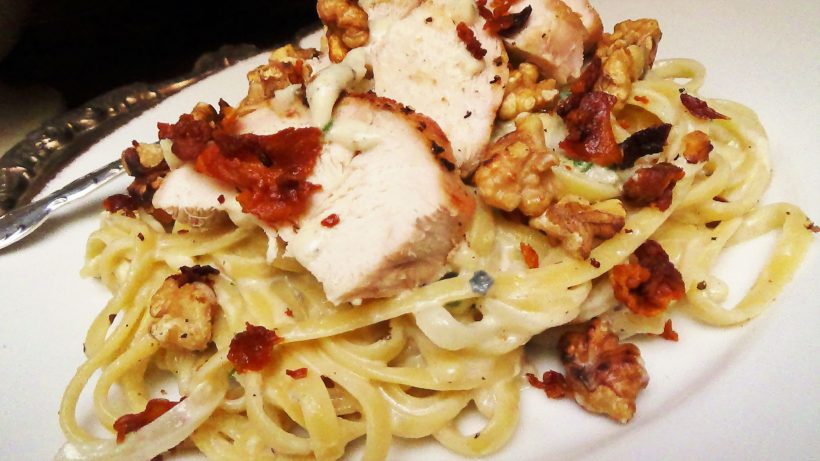 Don't forget that warm, crusty bread to go along side! Enjoy!
Note to cooks: To toast the walnuts, just add them to a dry skillet over medium/high heat and cook for about 5-6 minutes until fragrant, stirring occasionally.