This is an incredible recipe for Risotto!  The porcinis and their liquid add a rich, earthy, heavenly flavor. It also has cremini mushrooms, spinach, shallots, white wine and of course lots of fresh Parmesan! Some think Risotto is tricky, but if you take your time, keep stirring and taste along the way for tenderness, you will be rewarded with a creamy, delicious dish! 
Ingredients:
Serves 4 – 6
1/2 oz of dried porcini mushrooms
1 cup of very hot water
2 tsp of olive oil
2 shallots, minced
6-8 oz of cremini mushrooms, sliced
2 cups of Arborio rice
1/2 tsp of salt
1/3 cup of dry white wine
5 cups of chicken stock or broth
2 big handfuls of fresh baby spinach leaves
3/4 cup of freshly grated Parmesan cheese
2 Tbs of butter
Directions:
Start by soaking the Porcinis in 1 cup of very hot water for 30 minutes. Then drain into a large saucepan and chop the mushrooms.
Add 5 cups of chicken broth to the saucepan with the porcini liquid and bring to a very low simmer, keep this liquid simmering for later.
In a large, high sided skillet, heat the olive oil over medium heat and saute the shallots and cremini mushrooms about 4 minutes until they start to soften.
Add in the rice and salt, stir and cook for 3-4 minutes, then add in the wine and the chopped porcinis and cook for 2 minutes.
Now, over low heat, add in two ladles of the simmering broth and stir until it's absorbed, between 5 – 10 minutes, then add in two more ladles, repeat until you use all of the broth, stirring frequently. The time will vary, but it should take around 25 minutes total.
It's important to maintain a constant simmer. The risotto should be creamy and tender, but not mushy, taste it along the way.
If necessary, add in a little more broth. As soon as it's tender, add in the spinach and cook just until it wilts then stir in the butter and the Parmesan. All done!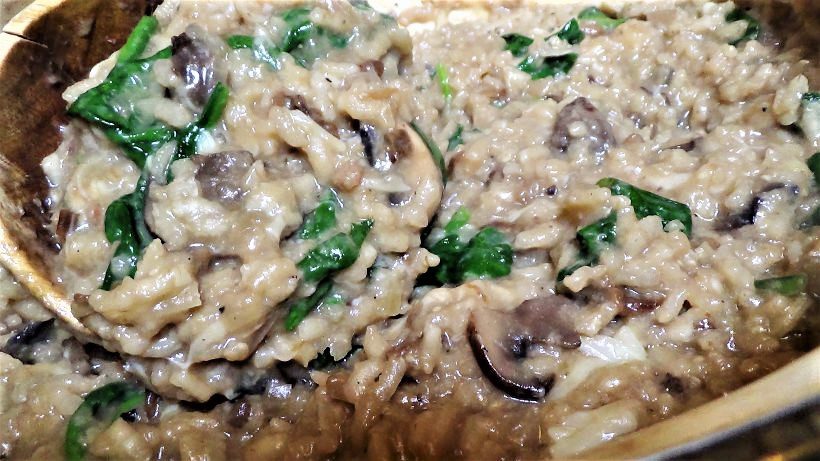 Note to cooks: Risotto can be cooked in a large saucepan, but a skillet with high sides (3-4 inches high) is better because it has more surface area for the liquid to be absorbed.