Is anything better than homemade peach preserves! This is my mother, Elsie's recipe, I made this with her most every summer when I was a little girl, the memories are as good as the preserves! She always threw in a cinnamon stick and used a vanilla bean, if she had one and never used pectin, the flavor is exceptional! I do recommend a candy thermometer.
Ingredients:


Makes 4 half pint jars
4 lbs ripe firm yellow peaches (about 10 or 11)
3 cups of white granulated sugar
juice of 2 lemons
1 cinnamon stick
1 vanilla bean, cut open and scrape out the seeds – could also substitute 2 tsp of vanilla extract
1/8 tsp of salt
Directions:
Start by running your jars and lids thru the dishwasher or hand wash with very hot water. Peel and slice or chop your peaches, add them to a large stock pot along with the 3 cups of sugar, let stand for 1 hour.
Then add in the lemon juice, cinnamon stick, vanilla bean seeds and salt. Bring to a boil over high heat, then turn the heat down and boil gently for approximately 30 minutes or until the thermometer reaches 220°. Stir often to prevent scorching.
Remove the cinnamon stick and mash the peaches, using a potato masher, mash them as smooth as you like, I like it a little chunky.
Now just ladle it into your clean jars, leave about 1/8 inch at the top, wipe the rims clean with a damp cloth, put the lids on and tighten.
 Let cool and tighten again! That's it…not bad right?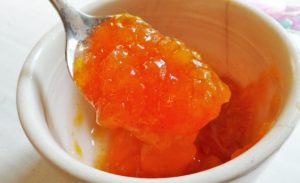 Note to cooks: You can certainly skip the cinnamon stick and the vanilla bean, the preserves will be super tasty without, but they do add another dimension of flavor. If for some reason your preserves are a little runny, don't despair! The taste is still amazing and it will make a very special ice-cream or waffle topping! And as always, store these in the fridge for 3 -4 months, (they won't last that long!) if you make a large batch to last over 4 months you will have to use a canner.