Spectacular taste in one package! Baked potatoes, with chorizo and Manchego cheese, easy and incredibly flavorful!

Ingredients:
• 2 large russet potatoes
• 1 tsp of canola oil
• 10 oz of chorizo
• 1/2 of a medium sized onion, finely chopped
• 2 large cloves of garlic, minced
• 2 Tbs of sour cream
• 1 Tbs of softened butter
• 3/4 cup of shredded Manchego cheese, divided use
• 1/4 cup of jarred roasted red peppers, cut into small pieces
• 1 tsp of kosher salt
• 1/4 tsp of black pepper
• 1/4 cup of chives (may also use cilantro or parsley)
Directions:
Start by scrubbing the potatoes and bake them for 1 hour or until fork tender.
While the potatoes are baking, heat the oil in a heavy skillet over medium high heat and cook the chorizo about 5-6 minutes, add the onion and cook another 4 minutes, add the garlic and cook 1 more minute.
Remove the potatoes from the oven and let cool just enough to handle. Cut a slit in the top about 1/2 inch wide and scoop out the flesh.
Place in a bowl, along with the butter and sour cream. Then add in the chorizo mixture, 1/2 of the Manchego, red peppers, salt & pepper and chives. Mix and mash until well combined.
Stuff the potatoes nice and full using all of the mixture. Sprinkle on the remaining cheese, and bake for 15 minutes.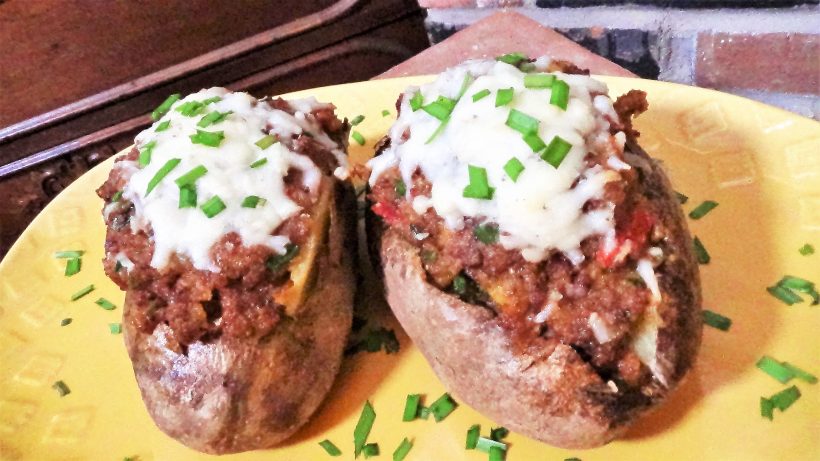 Note to cooks:
If you like, make this quick topping for your potatoes: Stir in some parsley, chives or cilantro into 1 cup of sour cream and sprinkle in a little paprika. Delish!