Lemons and blueberries were meant to be together! This dessert is so delicious and so easy! It's moist and sweet and zesty and scrumptious in every way!
Ingredients:
Batter:
• 1/2 cup room temperature butter
• 1  cup sugar
• 2 eggs
• 3 tsp vanilla
• 1 cup sour cream
• juice of 1 lemon
• zest of 1 lemon
• 2 cups white flour
• 1 tsp baking powder
• 1 tsp baking soda
• dash of salt
• 2 cups fresh blueberries
• 1/2 cups of pecans or walnuts
Glaze:
• 3/4 cup powdered sugar
• 1-2 Tbs lemon juice (start with 1 Tbs of juice, add more for desired consistency)
• drizzle of heavy cream
Directions:

Heat oven to 350°.  Grease the bottom of a 9×5 loaf pan. Using a mixer, beat the butter with the sugar until very smooth.
Add eggs, vanilla, sour cream, lemon zest and lemon juice. Beat until well combined. By hand, stir in the flour, baking soda, baking powder and salt.
Fold in 1 1/2 cups of blueberries and the nuts.
Spoon the batter into the buttered pan and sprinkle with remaining blueberries.
Bake for 1 hour. Check it with a skewer, it should come out clean. Cool for 5 minutes, then remove from the pan. Let cool completely.
While cooling, mix the glaze ingredients until smooth.
Drizzle over the blueberry bread and let it set up before slicing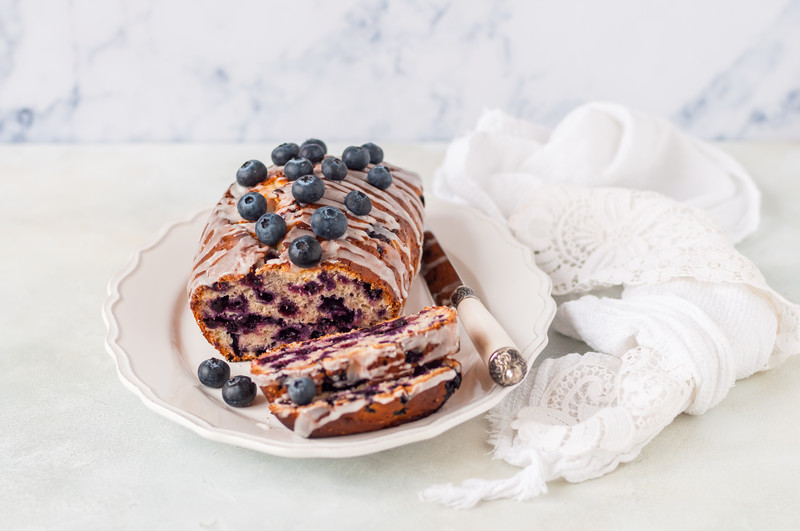 .