This is a lovely, rich, flavorful soup, yet healthy. I make this during the summer when eggplant and tomatoes are plentiful. It's infused with roasted garlic and fresh herbs! You'll adore it!
Ingredients:
Serves 4 as an entree or 8 as a starter
1 eggplant (l lb)
kosher salt for eggplant
1 head of garlic
drizzle of olive oil for garlic
salt and pepper for garlic
1 Tbs of olive oil
1 red onion, roughly chopped
1/2 cup of basil leaves
1 Tbs of fresh thyme
Pinch of red pepper flakes or to taste
6 Roma tomatoes, chopped
4 1/2 cups of chicken stock
1 tsp of kosher salt
1/2 tsp of freshly ground black pepper
Directions:
Preheat oven to 375°
Rinse the eggplant, pat dry and cut the ends off, then cut into 1/4 inch rounds. Place them on paper towels, sprinkle the top of each round with salt and let them drain for 20 minutes.
Cut the top off of the head of garlic, place in the middle of a square of tin foil, drizzle with a little olive oil and sprinkle on a little salt and pepper. Fold up the sides of the foil, but leave an opening at the top.
Place the eggplant and the garlic on a baking sheet that's either oiled or covered in parchment and bake for 15 minutes.
Then remove the eggplant and leave the garlic to bake for 35 more minutes. Rough chop the eggplant.
In a large soup pot, over medium heat, add in 1 Tbs of olive oil, let it heat up then add in the onions, basil, thyme and pepper flakes, stir and cook for 5 minutes.
Squeeze the garlic out and add it into the pot, then add in the eggplant, tomatoes, chicken stock and salt & pepper, bring to a boil, reduce the heat to low, cover and simmer for 12 minutes.
Now, use an immersion blender or let cool slightly and pour into a food processor and blend until smooth. 
That's it! Ladle into bowls and serve with homemade croutons or a loaf of warm crusty french bread!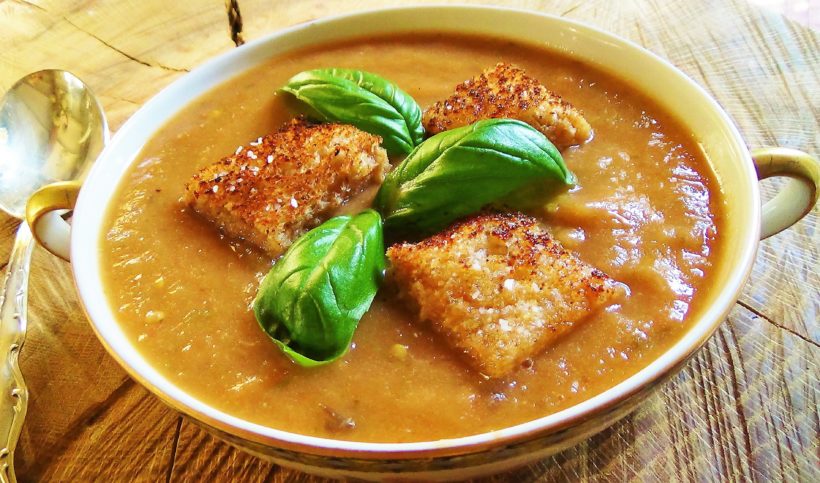 Note to cooks: To add silkiness and decadence, stir in 3 Tbs of butter or cream just before serving.