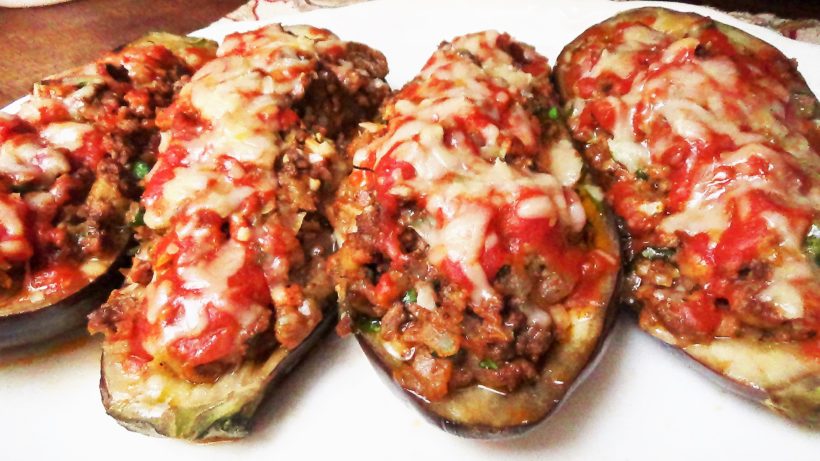 The beautiful, humble eggplant, Italian style! Stuffed and baked with a savory, heavenly concoction of ground beef, Parmesan, tomato sauce, garlic and herbs. So delicious and easy to put together.
 

Ingredients:
1 1/2 lbs of ground beef
1 Tbs of olive oil plus a little more for drizzling on eggplant before baking
1 onion, chopped
4 cloves of garlic, chopped
1 1/2 cups of tomato sauce, divided use
1 1/4 cup of freshly grated Parmesan cheese, divided use
1/2 cup of chopped parsley
1 cup of bread crumbs
1 tsp of oregano
1/2 tsp of kosher salt
1/2 tsp of freshly ground black pepper
1 Tbs of Worcestershire sauce
Directions:




Preheat the oven to 350°
Start by cutting the eggplants in half and place them cut side down in a shallow baking pan, pour in enough water so it's about 1 inch deep.
Bake them for 30 – 35 minutes. They should be cooked through but not falling apart.
While the eggplant is baking, cook the ground beef in a large skillet, in 1 Tbs of olive oil over medium/high heat til cooked through, about 8 – 10 minutes. Remove from the skillet with a slotted spoon.
Wipe out the skillet, removing brown bits of beef so they don't burn, add a little more oil and saute the onion for 3-4 minutes, then add the garlic and cook 1 more minute.
Add the beef back to the skillet.
If you're skillet is not large enough to add the remaining ingredients, switch to a mixing bowl. Next, add in the tomato sauce, Parmesan cheese, parsley, bread crumbs, oregano, salt and pepper and the Worcestershire sauce.

Scoop out the eggplant and chop, add to the beef mixture and stir well to combine.
Stuff the shells, spoon on the remaining 1/2 cup of sauce and the remaining 1/2 cup of Parmesan, drizzle with a little olive oil.
Bake for 30 minutes, serve immediately! YUM!