Cassoulet is a classic french stew that is quite involved and includes duck confit and is absolutely delicious! This is my streamlined recipe that has a lot of the same flavor, but a much quicker version. Your house smells amazing when this is cooking! Warms your heart on cold night!
Ingredients:




Serves 4
• 1 lb of fresh pork sausage links
• 1 Tbs of olive oil
• 2 cans of Cannelini beans, drained
• fresh herbs, rosemary, thyme and parsley, tied in a bundle with kitchen twine (may use dried herbs – 1 tsp each)
• 1-14 oz can of whole tomatoes, drained
• 1 tsp of kosher salt
• 1 tsp of black pepper
• 3 handfuls of kale
• 1 cup of chicken stock
Breadcrumb Topping:
• 1/2 cup of Italian Panko breadcrumbs
• 2 Tbs of melted butter
• 1/3 cup of grated Parmesan cheese
Directions:
Preheat the oven to 350°
Heat a large high sided skillet, cast iron if you have one, add the olive oil. Heat til very hot and shimmery, brown the sausages, about 4 minutes on each side.
(See note at bottom if not baking in a cast iron skillet) Turn the heat to low and add the remaining ingredients, the beans, herb bundle, tomatoes, salt and pepper and the kale, stir to combine. Break up the tomatoes with your spoon.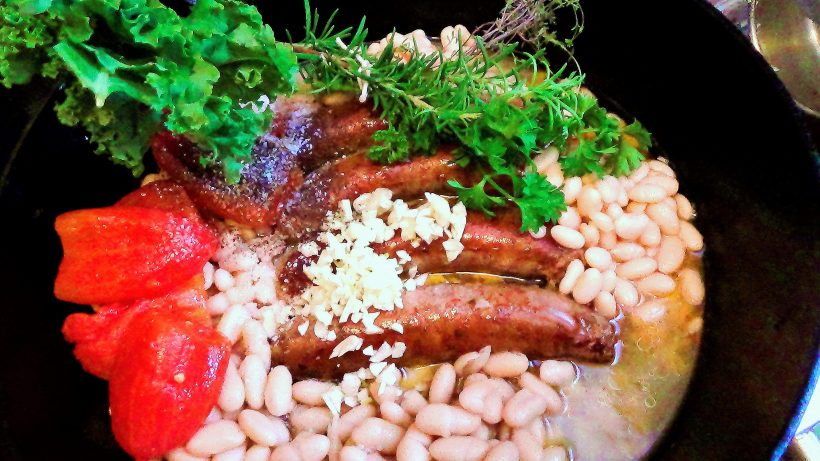 Pour in the chicken stock and give everything a good stir, but make sure the sausages are on the top so they can brown up.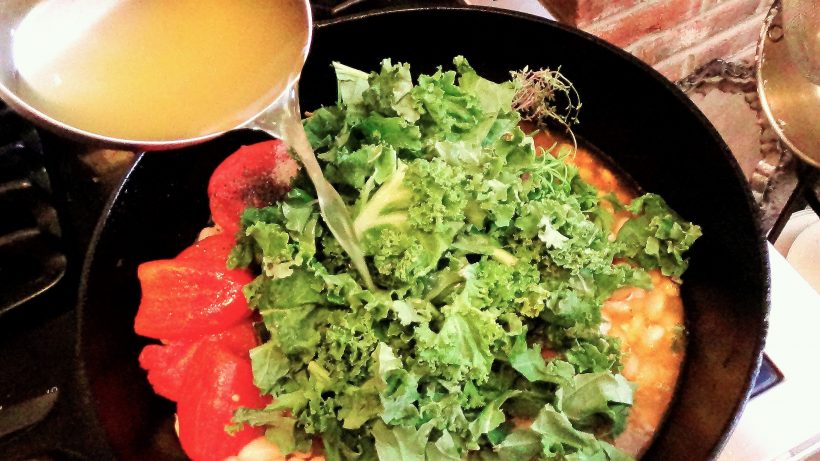 Turn the heat back up to high and bring to a boil. Cover and place in the oven, bake for 15 minutes, uncover and bake another 25 – 30 minutes. While the stew is baking stir together the breadcrumb topping ingredients. Remove from the oven, fish out the herb bundle and sprinkle on the breadcrumbs, switch on the broiler and broil just until the top is golden brown.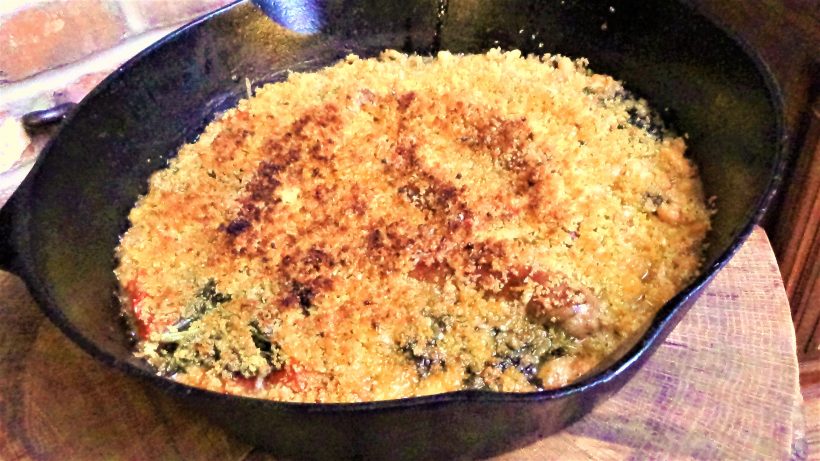 That's it, pretty darn quick for something so incredible! Serve with warm bread!
Note to cooks:  If you're not baking this in a cast iron skillet, transfer the sausages after browning to a casserole dish and proceed.