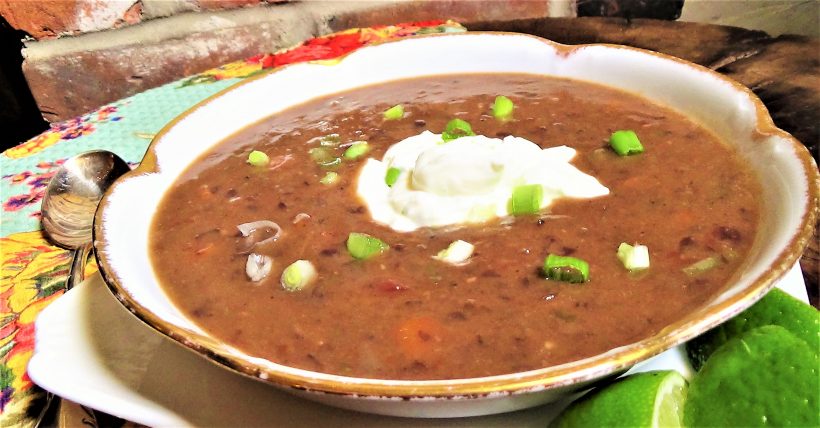 Black Bean Soup
This will be the best black bean soup you've ever had! Really! Lots of ingredients, but easy to make. The smoked ham hocks make it rich, smoky and wonderful and a dollop of lime sour cream makes it fresh and creamy!
Ingredients
1 lb of dried black beans,
1 Tbs of canola or vegetable oil
1 medium onion, chopped
1 carrot, chopped
1 red or green bell pepper, seeded, membrane removed and chopped
1 jalapeno pepper, seeded and chopped (very mild heat)
4 garlic cloves, chopped
1 tsp of cumin
2 tsp of chili powder
1 tsp of oregano
7 cups of chicken stock
1 can of diced, fire roasted tomatoes, drained
2 tsp of brown sugar
2 tsp salt
1 tsp of black pepper
2 smoked ham hocks
2 bay leaves
1 Tbs of red wine vinegar
Instructions
Place the dried beans in a large pot, cover with water by 2 inches, bring to a boil and let cook for 5 minutes. Turn the heat off, cover and let rest for 1 hour, then drain. You can also soak the beans overnight in water, then drain, rinse and proceed.
Next, in a large soup pot or dutch oven, over medium/high heat, add in the oil and saute the onion, carrot, bell pepper and jalapeno for 5 minutes. Add in the garlic, cumin, chili powder and oregano, stir and cook 1-2 more minutes.
Now add in the chicken stock, tomatoes, brown sugar, salt & pepper, drained beans, ham hocks and bay leaves.
Bring to a boil, then reduce the heat to low, cover and simmer for 1½ – 1¾ hours or until the beans are very tender. Remove the pot from the heat and remove the ham hocks, let cool enough to handle, then cut the meat into small pieces, discarding the fat and bones.
Using an immersion blender or a potato masher, mash some of the beans, about ⅓, this gives the soup more body.
Now, place the soup pot back on the heat and add in the ham pieces, turn the heat to medium/high.
Stir in the vinegar, heat through and taste, add salt if needed. All done!
Top with lime sour cream and cilantro or green onions for garnish.
To make the lime sour cream, just stir in 2 tsp of lime juice and 1 tsp of lime zest into 1 cup of sour cream. You many want to double this, some people like more than a dollop!
Notes
I used one jalapeno for very mild heat, so if you like more heat, you can use 2 – 3 jalapenos or really ramp it up and use a serrano pepper.