Authentic Mexican shredded beef! Unbelievable flavor! Use it for tacos, burritos, you name it! A chuck roast is cooked for hours with onion, garlic, jalapenos, tomatoes and lots of spices, until it falls apart! You'll adore this one!
Ingredients:
Serves 12
1- 3 lb chuck roast
1 Tbs of kosher salt
1 Tbs of black pepper
2 Tbs of oil
1 onion, chopped
1 jalapeno pepper, chopped
5-6 cloves of garlic, smashed and chopped
1 can of diced tomatoes, regular or fire roasted, with their juices
juice of 1 lime
1 Tbs of oregano
1 tsp of cumin
1 tsp of paprika
1 tsp of cayenne pepper
1 tsp of chipotle chili powder
2 tsp of sugar
3 cups of beef broth
1 cup of water
1/2 cup of chopped fresh cilantro
Directions:
Start by searing the chuck roast, sprinkle both sides with salt and pepper, heat the oil in a large dutch oven and sear both sides of the roast, about 5-6 minutes per side.
Add the remaining ingredients in the dutch oven with the roast, stir to combine.
Bake for 3 hours, covered. Remove from the oven and test it for tenderness with a fork, it should be just perfect.
Then, using two forks, just completely shred the beef, removing any fat that you see, it's just that simple. This is perfect to make the day before, just refrigerate and the next day, reheat on the stove top.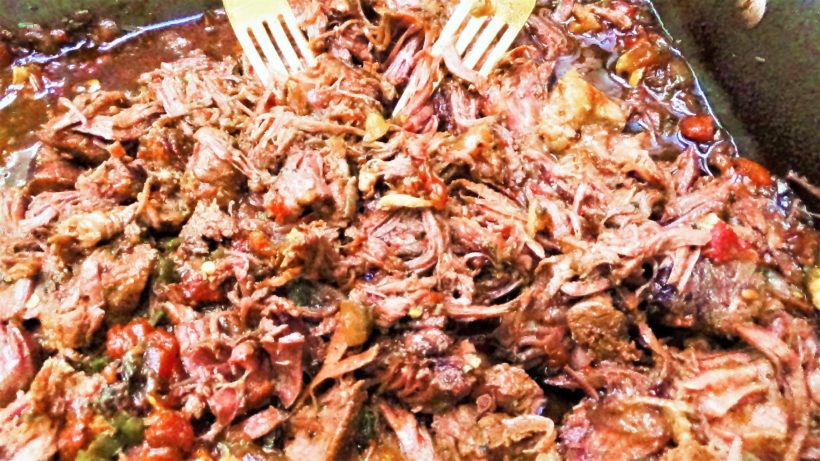 I serve this with warmed tortillas and all the fixens! Tomatoes, lettuce, Queso fresco and Mexican Crema, so darn good!