Everyone loves these lettuce cups, very quick and easy to make, everything is cooked in one skillet. Such a complex, delicious flavor with just the right amount of crunch. You'll make these over and over! I've also included a recipe for dipping sauce.
Ingredients:


Serves 4
1 Tbs of olive oil
1 lb of ground chicken
3 garlic cloves, minced
1 medium onion, finely chopped
1/4 cup of Hoisen sauce (sold in the Asian section of most grocery stores)
2 Tbs of soy sauce
2 Tbs of rice wine vinegar
1  Tbs of brown sugar
1 Tbs of of fresh ginger, minced
1 tsp of chili paste (also in the Asian section)
1 can of water chestnuts, chopped
3 green onions, white and pale green parts, chopped
1 tsp of salt
1 tsp of black pepper
fresh chopped cilantro for garnish
chopped peanuts for garnish
Bibb lettuce leaves for the "cups"
bean sprouts for garnish – optional


Directions:
Heat the oil in a large skillet over high heat, add in the chicken and cook for 4-5 minutes. Turn the heat down to medium, then add in the garlic, onion, Hoisen, soy, vinegar, brown sugar, ginger and chili paste. Stir to combine and cook for 3-4 minutes. Stir in the water chestnuts, green onions and the salt and pepper, stir well to combine. That's it! Ready to eat!.
To Serve, place 2 lettuce cups on each plate, spoon on the chicken and top with the cilantro and the chopped peanuts.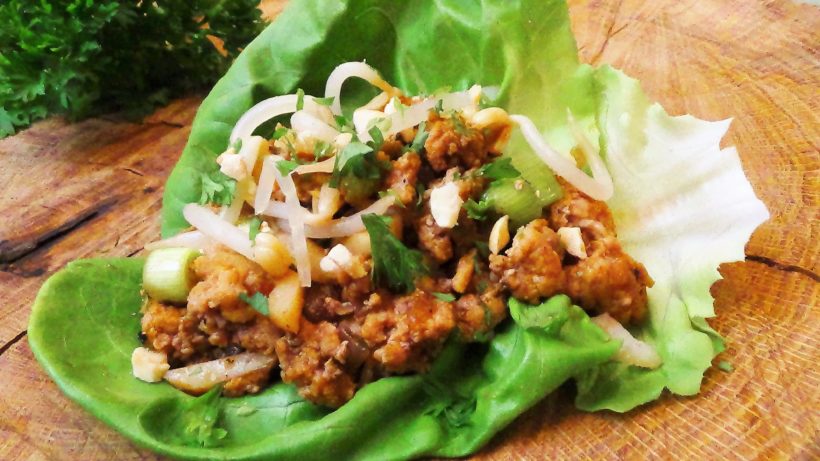 These are delicious as is but if you'd like to serve with a dipping sauce, here's the recipe
Dipping Sauce: Just stir together, 1/2 cup of soy sauce, 1/2 cup of rice wine vinegar, 1 Tbs of minced fresh ginger, 3-4 cloves of minced garlic, 2 tsp of sesame oil and 2 Tbs of honey.