These peppers are a flavor bomb! The garden is overflowing with them! So this is my Mexican version with the ever so flavorful Chorizo, mixed with garlic, fresh tomatoes, jalapenos, fresh cilantro, Monterey Jack and a few other things!  But there's more, its finished with a sour cream lime sauce for a perfect balance! Simply irresistible!
Ingredients:




Serves 4
4 large bell peppers, green, red or yellow
1 lb of pork or beef Chorizo, casing removed
1 small onion, chopped
1 Tbs of Jalapeno pepper, minced
3 cloves of garlic, chopped
3/4 cup of chopped fresh tomato
1/2 cup of chopped fresh cilantro
1/3 cup of fresh breadcrumbs
1/2 tsp of kosher salt
1 cup of shredded Monterey jack cheese, plus a little more for sprinkling on top
3 Tbs of sour cream
juice from 1/2 of a lime
dash of salt
cilantro or chopped chives for garnish – optional
Directions:
Preheat oven to 350°
Start by prepping your peppers, cut the tops off and using a small paring knife cut out the membranes, save the tops.
Place the peppers in a small baking dish and pre-bake them for 20 minutes at 350°, then remove from the oven. Finely chop up some of the reserved pepper tops to make 1/4 cup. In a large skillet over high heat, cook the Chorizo for 5 or 6 minutes. Then add in the onion, jalapeno, garlic and chopped pepper tops, saute for 2 – 3 minutes.
Remove from the heat and stir in the tomato, cilantro, breadcrumbs, salt and 1 cup of the cheese.
Spoon the mixture into the pre-baked peppers, stuff them nice and full. Sprinkle on a little cheese on each pepper.
Now just bake for 35 – 40 minutes. While the peppers are baking, make your lime sauce, just stir together the sour cream and the lime juice and salt to taste. To serve, just drizzle on  little sour cream lime sauce and sprinkle on little cilantro or chopped chives.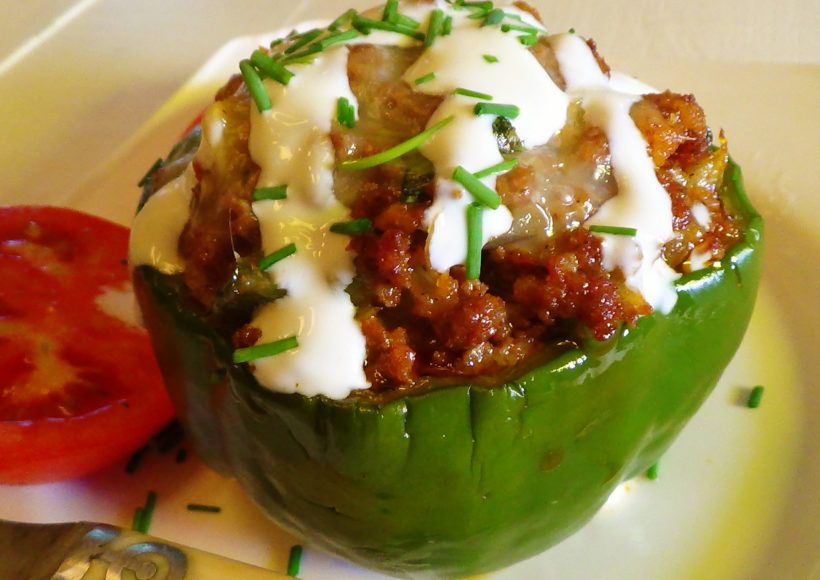 Note to cooks: If you prefer more heat, increase the amount of minced jalapeno, 1 Tbs is for very moderate heat. Also, try to get freshly made chorizo from your butcher, the pre-packaged version is packed with water and would make the stuffing too soupy.