A beautifully cooked Filet Mignon is topped with a magical Madeira sauce! It is over the top delicious! There are a few steps to the sauce, but easy enough and so worth it!
Ingredients:
Serves 2
• 2 filet mignons
• 1/2 tsp of kosher salt
• 1/2 tsp of freshly ground black pepper
• 1 Tbs of vegetable or canola oil
• 2 Tbs of butter
• 1 fresh thyme sprig
• 1 fresh rosemary sprig
• 1 garlic clove, crushed
• 1 Tbs of minced shallot
• 2 Tbs of Madeira wine
• 1 cup of chicken stock
• 1 heaping tsp of Dijon mustard
Directions:
Let the filets rest at room temperature at least 30 minutes before cooking.
Season them on both sides with salt and pepper.
Heat the oil in a heavy skillet over high heat. Place the filets in the skillet and sear on all sides until nicely browned
Reduce the heat to low, add in the butter, rosemary, thyme sprigs and the garlic clove.
Spoon the melted butter over the filets every few minutes and stir often so the butter doesn't burn.
This will take about 10 minutes for medium rare. Transfer the filets to a plate and tent with foil.
In the same skillet, add in the shallots and cook for 2-3 minutes.
Pour in the Madeira, scrape up the bits and cook for 1 minute. Add in the chicken stock and increase the heat to high. Cook for about 15 minutes until reduced by half to three quarters.
Strain the liquid into a bowl, then return to the skillet.
Add in the Dijon and the butter and whisk until combined, season with salt and pepper.
To serve, plate the filets and spoon on that luscious sauce! Amazing on a bed of polenta or mashed potatoes.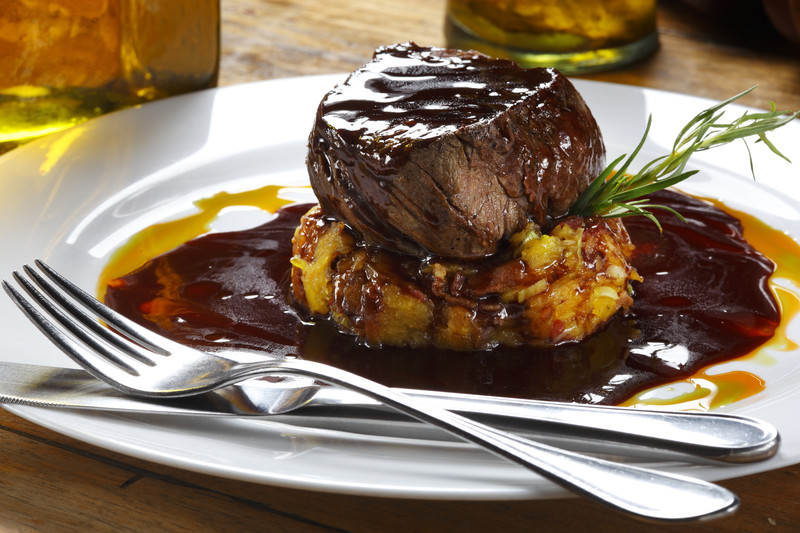 ---
---