An old French classic! Super healthy and incredibly delicious for garlic lovers! Garlic has many healing qualities, and heading into winter, this soup is warm and soothing and good for any respiratory problems! The soup simmers away with the garlic cloves and fresh herbs and just breathing it in is therapeutic and delightful! I like to serve this with Parmesan crisps, so I've included the recipe, also good with a warm crusty baguette or homemade croutons.
Ingredients:
Serves 4
1 qt of chicken stock
1 whole head of garlic, cloves separated, skins removed and smashed
2 bay leaves
3 sprigs of fresh thyme
3 sprigs of fresh parsley
1/2 tsp of kosher salt
1/2 tsp of black pepper
1 egg
2 egg yolks
3 Tbs of olive oil
Directions:
In a medium sized saucepan, over medium/high heat, add in the chicken stock, garlic cloves, bay leaves, thyme, parsley, and salt & pepper.
Bring to a boil, then reduce the heat to low and simmer, partially covered for 40 minutes. Then strain over a bowl, add the garlic cloves and the broth back into the saucepan, use an immersion blender and blend til smooth. Or use a regular blender then pour back into the saucepan.
In a small bowl, whisk the egg and the yolks together, then drizzle in the olive oil. Ladle some of the warm broth into your egg mixture and whisk til well blended, this is called tempering, then add the mixture into the saucepan with the rest of the broth and stir until well mixed, simmer for 5 -6 minutes or just until the soup starts to thicken. Give it a taste and more salt if needed.
Ladle into pretty soup bowls and sprinkle on a little chopped parsley for garnish if you like.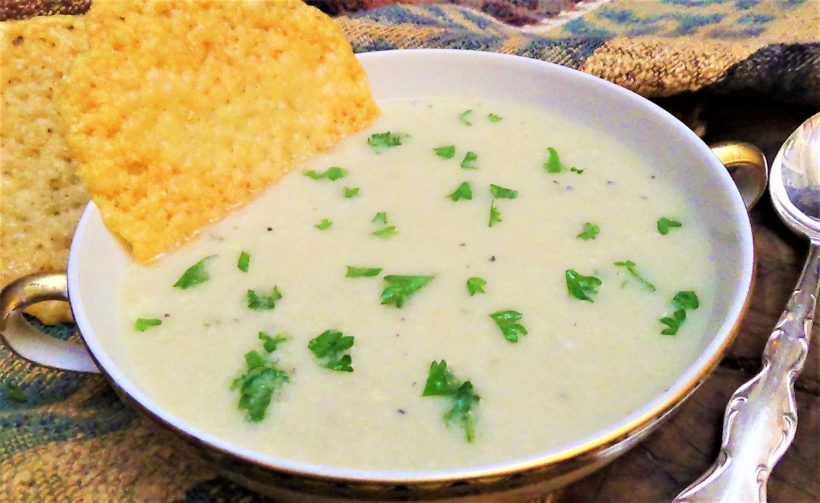 Parmesan crisps: Grate about 3 oz of fresh Parmesan cheese. Line a cookie sheet with parchment and grease the parchment. Drop the parmesan by spoon fulls about 4 inches apart to make 4 rounds, pressing them down slightly to flatten.
Bake at 400° for 6-8 minutes or until they look crispy and lightly browned. Cool slightly then loosen the edges with a spatula or butter knife, remove from the baking sheet. Delish!